Thank you for making the EADV Congress 2023  a resounding success. With over 600 speakers, sharing their experiences from 50+ countries, who brilliantly conducted 180 sessions to a diverse audience of over 15,800 delegates from across the globe, your collective efforts made this event an outstanding achievement.
Press and media who registered for the EADV Congress 2023, can revisit any sessions on-demand through the Virtual Platform or Congress App as well as watch the virtual press conference. The on-demand content will remain available online until December 31, 2023
EADV welcomes the interest of press and media in relation to the EADV Congress 2023. Here you can register as press or find out further information regarding the press and media activities at the congress.
Press registration includes access to the following:
Official EADV Congress Press Releases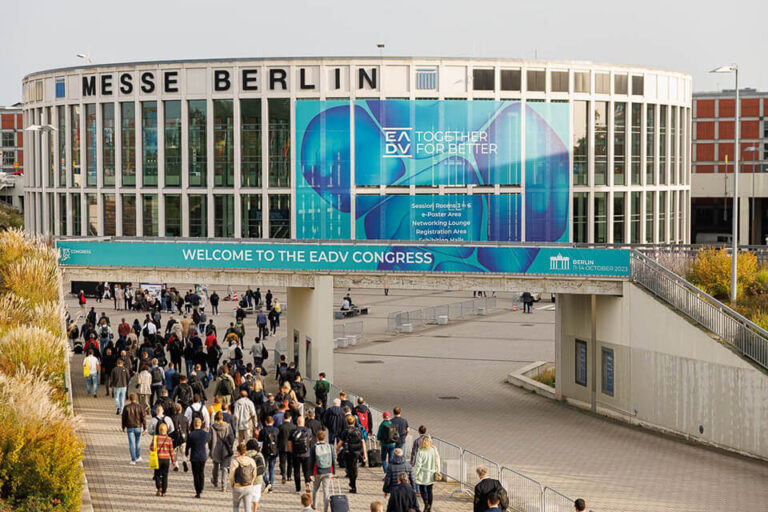 We extend our heartfelt gratitude to all those who played a role in making the EADV Congress 2023 an extraordinary success. Discover more about the on-demand content, CME-CPD credits, and certificates of attendance available for you.
Access to the onsite Press Centre, located within the congress centre in Berlin
The live Congress Scientific Sessions 
The EADV Virtual Congress Platform
The Networking Symposium on Wednesday, 11 October 2023
The Subspecialty Society Meetings on Wednesday, 11 October 2023
The e-poster area, MyEADV booth and Patient Advocacy Booth
Satellite Symposia Sessions and Industry Hub sessions

*

 
Transportation pass
All virtual press registration benefits also included
Virtual press registration
Access to the EADV Virtual Congress Platform with live-streamed scientific sessions
Access to all on-demand content until 31 December 2023
Access to the streaming of Subspecialty Society Meetings
Access to the online library of e-posters and abstracts
Access to the online EADV area and Patient Organisation Hub
Live-streaming of selected Satellite Symposia Sessions and Industry Expert Hub

*
Registered press will be invited to join the virtual Press Conference.
Virtual Press Conference
Friday 6 October 2023
10:00 – 11:00 CEST
Speakers and Panel to be confirmed.
Our press team are at hand to support you with your registration for the congress and to assist in arranging interviews with experts presenting the hottest topics at the meeting. Please email press@eadv.org for assistance.
The free registration under the Press/Media Representative category is granted only to journalists or media representatives in possession of:

A valid press card or an appropriate letter of assignment
The completed EADV Press and Media Representatives Online Registration

Please note that access to the EADV Virtual Congress is for members of the medical and professional media, however relevant representatives of consumer media who require access will also be considered on a case-by-case basis.
To secure your access for the start of the Congress, 

registration

 is required by: Tuesday, 27 September 2023 (23:59 CEST). After this date, we cannot guarantee that your application will be processed before the start of the Congress.
Access to all EADV scientific sessions, the press area, press conferences, press material and interviews arranged with EADV spokespersons etc.
Industry is allowed to restrict press access to their Industry Satellite Sessions or HUBs
Only HCP press representatives will have access to the Exhibition area.
Press registration deadline: 27 September 2023 (23:59 CEST).
Please note that if you request registration after this date that there may be delays in processing your registration and therefore, providing access to the programme in time for the start of the congress
If you have any press-related queries regarding the 2023 EADV Congress, please contact press@eadv.org
Press Office hours:
Wednesday 11/10 from 08:00 to 17:00
Thursday 12/10 and Friday 13/10 from 08:00 to 19:00
Saturday 14/10 from 08:00 to 17:00
Join the biggest Dermatology and Venereology event in Europe. We look forward to welcoming you.
To apply for the Press registration category, please log in to the Berlin Registration Platform and click on the Application Module (please do not click on the Individual Registration or Group Registration module).
Join the biggest Dermatology and Venereology event in Europe.